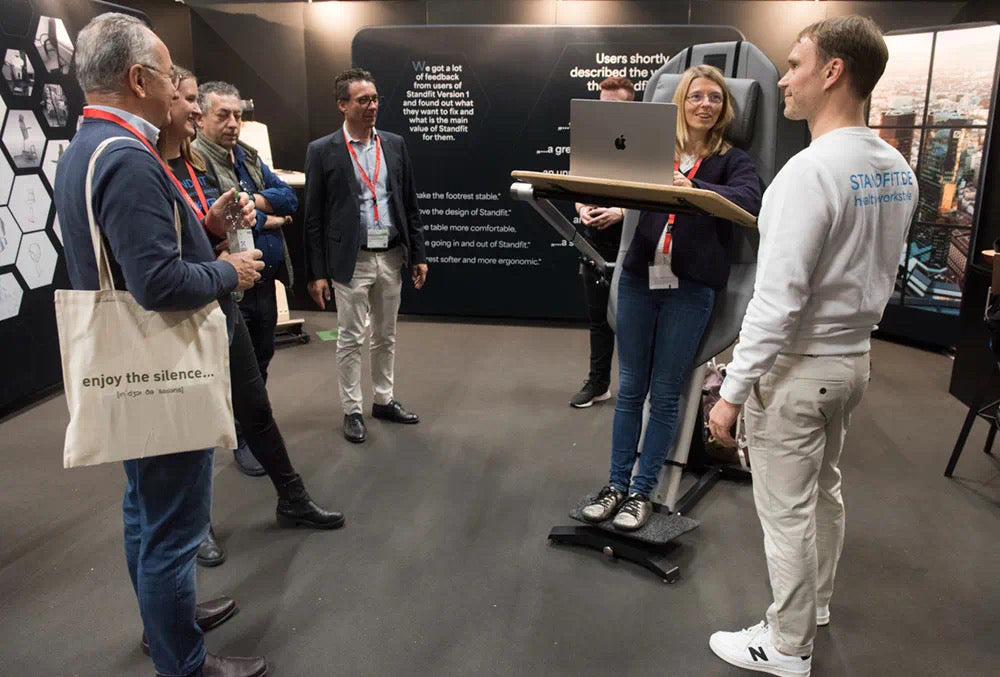 ORGATEC 2022 AND TFT OFFICE TERND
| YukiLi
      At the 2022 Office Furniture Fair in Cologne, Germany, which ended on October 29, a number of acoustic products were showcased. Acoustic products have become the new favorite of office furniture manufacturers, it's becoming a trend.
     The world's largest office furniture trade fair was held in Cologne. The exhibition hosted over 671 exhibitors and 56000 visitors from different countries.
     they provided inspiration to 130000 square meters of exhibit space catering for every requirement around office furniture, interior design solutions for offices, meeting rooms and collaborative spaces, solutions for learning and training environments and much more.
     The ORGATEC Office Furniture Fair in Cologne is the international trade fair for office and conference furniture. The fair is a platform to showcase innovations and a meeting place for professionals from all sectors.
    ORGATEC is the leading European trade fair for office furniture, furnishing and interior products, held annually in Cologne. It serves as a bilateral platform for international enterprises, suppliers and experts.    
     Since its inception in 1953, ORGATEC has been growing steadily to become one of Europe's leading events in this sector.
    The trendsetting and technological innovations at ORGATEC in Cologne are always inspiring.
     Not only do we find the latest office furniture trends at this fair, but also see how new ideas can be implemented to optimize flexible teamwork, so that our customers can increase the comfort and wellbeing of their employees.
      The ORGATEC Office Furniture Fair in Cologne brings together the newest trends and innovative products in the world of office interiors.
      From new work places and mobile working to safety and ergonomic solutions, Cologne offers inspiring ideas.
      The latest office furniture trends from Europe's leading manufacturers and innovative ideas for the work of tomorrow, Cologne was amazing.
      Cutting-edge ideas inspired new visions of teamwork in the office.
       Soundproof rooms with TFT acoustic pods, dynamic collaboration areas for entrepreneurs and startups to share space with big corporates and new flexible environments for workers.
     Join us at the ORGATEC Office Furniture Fair in Cologne. Come and discuss new ideas, cutting-edge ideas inspired by intelligent design, new work visions and TFT acoustic pods which are transforming office trends.
      Experience how businesses can benefit from soundproof rooms, in order to create an ideal working atmosphere for their employees.
     A change in the office atmosphere with standards and a better work environment is achieved through the use of custom-made products.
     The ORGATEC Office Furniture Fair in Cologne has everything you need to create an optimal working environment for you: ergonomic office seats, soundproof room, lifting desk, TFT acoustic pod and many more specialized products. 
      At the ORGATEC Office Furniture Fair multiple types of soundproof material was shown.     
     The material was installed and tested. A special soundproof room was used as a test room to test the effectivity of all materials on different decibels.
      Furthermore, one additional TFT acoustic pod was created to show how modern office equipment can be arranged in a natural and simple way.   
        The ORGATEC Office Furniture Fair in Cologne offers all visitors a variety of opportunities.      
        At TFT OFFICE TREND, you gain practical insights into current developments and the latest trends.  If desired, you can also get first-hand tips on TFT acoustic pod and ensure that the workplace is adapted to your needs as much as possible.
       ORGATEC Office Furniture Fair in Cologne, is the largest one of its kind in Europe.  It welcomes you to experience what's new and what's top of the line in the world of office furniture.