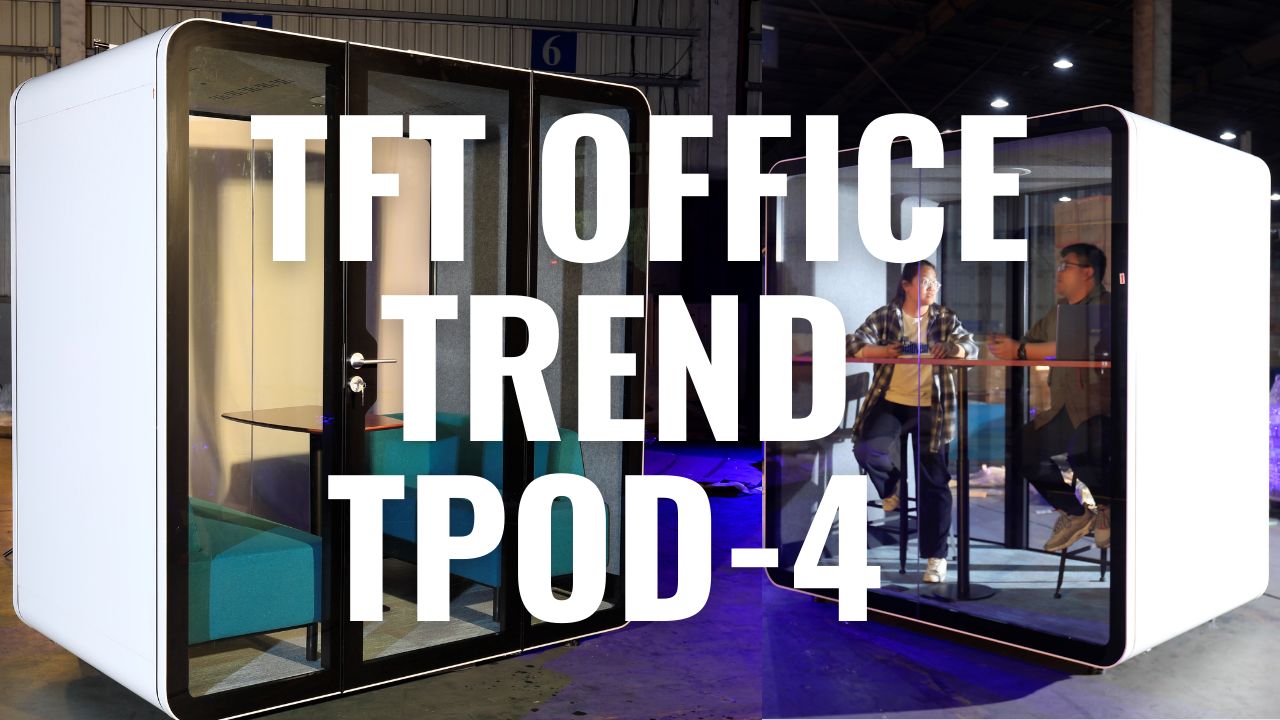 Redefining Workplace Efficiency with the Versatile Office Pod Plus (TPOD4)
| YukiLi
In today's open office environments, finding a space that offers focus and privacy can be a formidable task. This is where the Office Pod Plus (TPOD4), an upscale version of the typical office phone booth for 2 to 4 individuals, comes into play. This roomy and adaptable solution, offering comfort and seclusion, is redefining our approach to collaborative work environments.
The standout attribute of our Office Pod Plus (TPOD4) is its excellent noise isolation. By using high-quality steel, double-layer tempered glass, and environmentally-friendly sound-absorbing panels, we've created a tranquil, interruption-free oasis. This concentration on noise reduction enables individuals and small teams to concentrate on their tasks, brainstorms, or significant discussions, without the distraction of the office environment's regular buzz.
Unlike its smaller counterparts, our Office Pod Plus (TPOD4) boasts of generous interiors. Instead of simply providing seclusion for one or two people, it offers a personal meeting space for 3 to 4 individuals. This adaptability eliminates the necessity for reserving larger conference rooms for smaller gatherings, making it a practical addition to any workspace.
Furthermore, this pod transcends the boundaries of a mini meeting room. It's a dynamic space that conforms to your needs. With readily swappable furniture, the Office Pod Plus (TPOD4) can transition into a casual spot for relaxing breaks or informal discussions. This dual functionality ensures maximum office space utilization while cultivating a more relaxed and innovative atmosphere.
Constructed with top-tier steel and tempered glass, our Office Pod Plus (TPOD4) exudes durability and style. It stands as a testament to our dedication to quality and deep understanding of contemporary office requirements. Inside the pod, you'll find plenty of power outlets, ensuring a consistent and reliable power source for your devices.
Our Office Pod Plus (TPOD4) also features an innovative ventilation system. This includes two fans, one at the top and one at the bottom, ensuring optimum air circulation and ventilation, thereby maintaining a fresh and comfortable environment regardless of the number of occupants.
Understanding that workplaces are more than just places for work, we offer customization options for your Office Pod Plus (TPOD4). Imagine having a mini-fridge for refreshments or a small bookshelf for your favorite reads right within your meeting space. These personal touches can make a huge difference in creating an environment that promotes both productivity and relaxation.
The Office Pod Plus (TPOD4) is a model of versatility. It serves as a privacy pod, a meeting room, and a relaxation spot. It's the ideal blend of aesthetics, function, and comfort, designed to meet the dynamic needs of a modern office.
In conclusion, the Office Pod Plus (TPOD4) is more than just a cutting-edge product; it's a solution tailored for the modern workspace. Its spacious, soundproof design combined with adaptable furniture configurations provides a unique, flexible solution for your office. It boosts productivity, encourages collaboration, and makes work enjoyable. Investing in the Office Pod Plus is not just purchasing a product; it's committing to a better, more comfortable, and more productive work environment. Welcome the future of work with the Office Pod Plus .