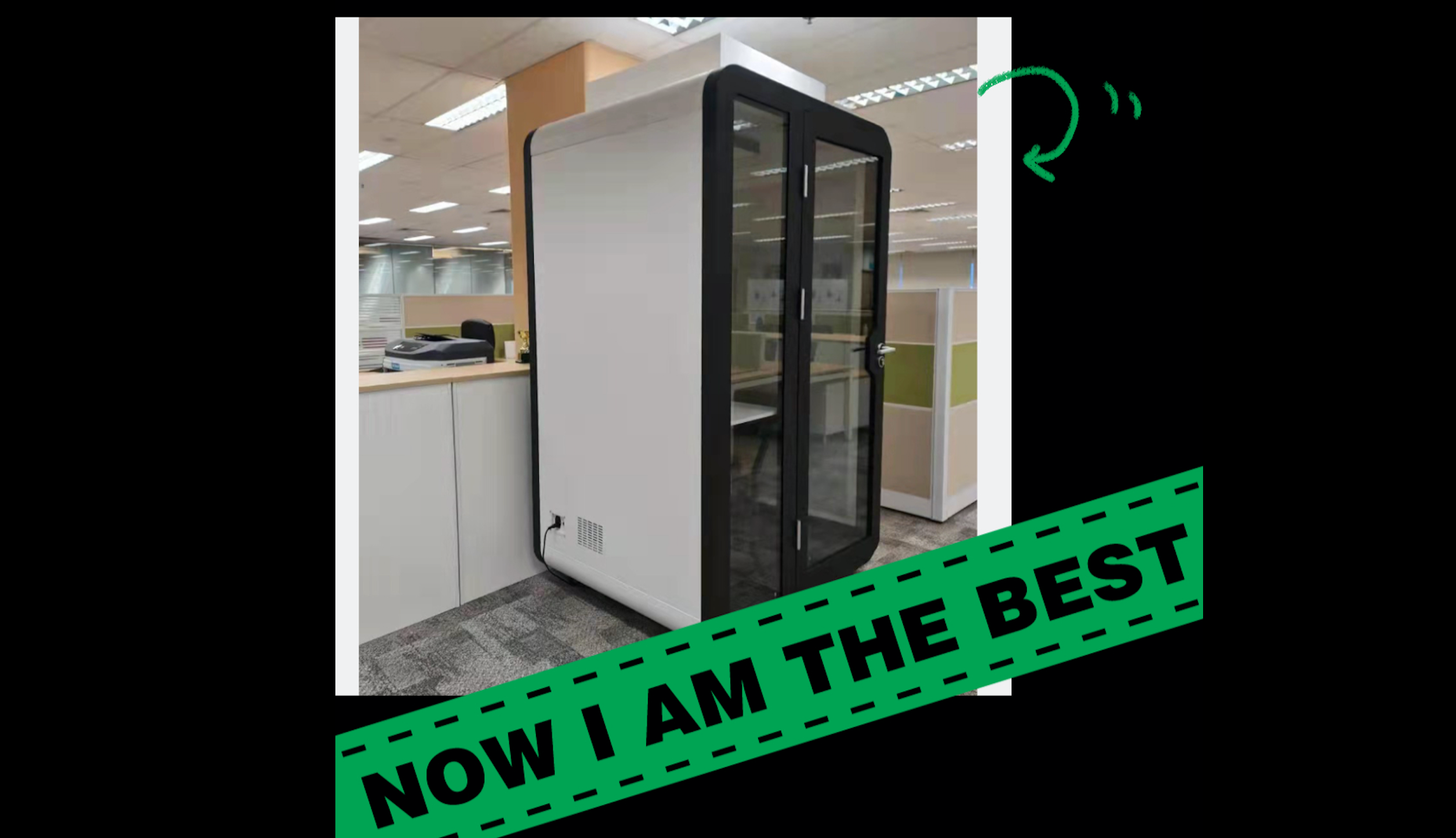 Shares Of Testimonials,Reviews And Images From TFT Partners
| YukiLi
We developed this office pod product in 2020, and then one of our earliest customers, as a review, this customer is in Singapore, He mentioned that there are many professional suggestions. Among them, it must be installed in the business network cable.Then our ceiling lights are required to use the brightness of 4000k.And Soundproof will reach standard NIC Rating ASTM E90 Standard Test Method for Laboratory Measurement of Airborne Sound Transmission Loss of Building Partitions and Elements
Well, the outer frame is white, and then the inner wall is gray, that is, the PET sound insulation board is gray, and the floor is also gray. The first order was for two sets, and then he asked about whether it was packaged or in bulk.
Well, this order was placed on December 11, 2021 and 2020, and then we closed the deal, and it was well received by customers.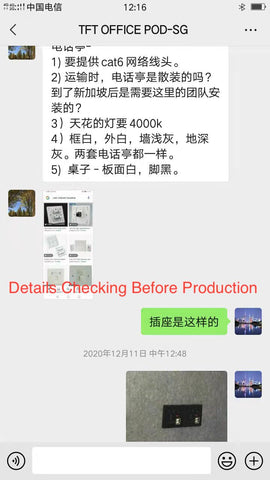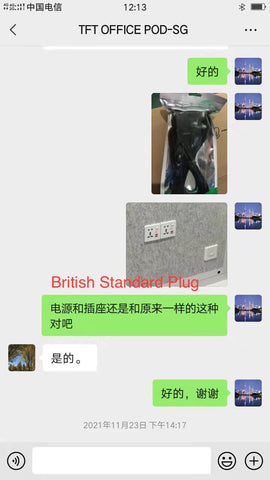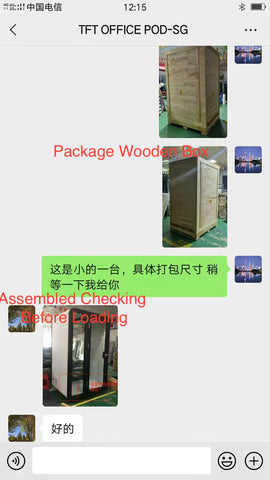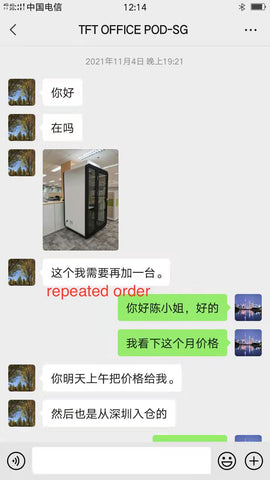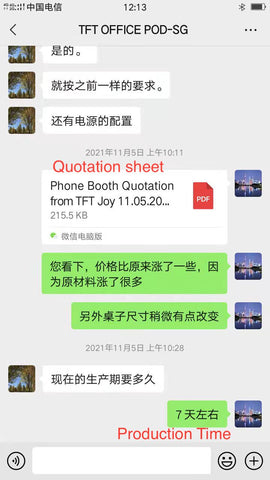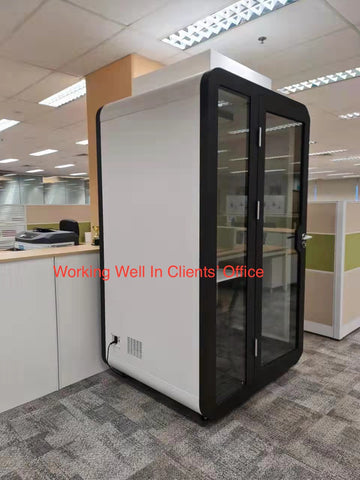 We received a repeat order from the customer in November 2021, and the following is a picture of him in his use.This customer made some positive comments on our products in Chinese because he is overseas Chinese.Then the normal production time of our products is 7 to 10 days;Our pods go from Shenzhen Port to Singapore, to the United States, mainly to markets such as the United Kingdom too.
This customer is one of our British customers, and then our colleague Tracy followed up his order;When we sent him the assembled photos before shipment, the customer wrote us a letter. This is very satisfied with our product inspection, and the product is perfect. I think we should ask for his comments when he got his pod in hand too.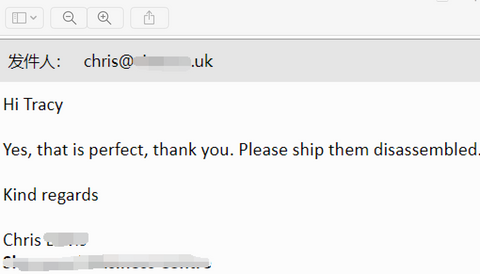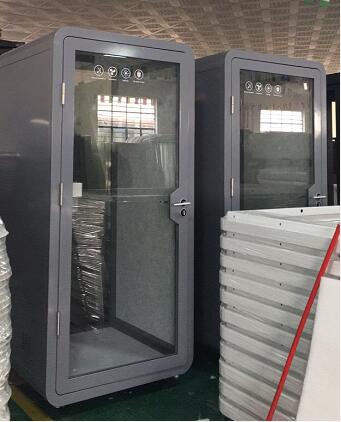 The customer bought gray one type. These two sets are trial orders. It is a co working space club company that shares offices. So now it is also a long-term customer of ours. It has been giving us orders.

This below customer is one of our agent customers in Southeast Asia. He is a container housing company, and He buys various sizes every time to resell, there should be about 10 sets each time. Then this is his latest order. Then he also sent the photos he was using because we had to do some reviews.So the customer is very cooperative to send us these photos of him at the scene, let everyone have a look, and then let us let more people know about our good and economical acoustic pods products.

Among them, many of our customers now, because they bought this Pod, because they didn't ask the customer for the evaluation of the use in time, so now, through today's sharing, we share some of the evaluation of our very important long-term customers of this product.and then let everyone know more about the features of our products, as well as some of the results of the use of the appearance.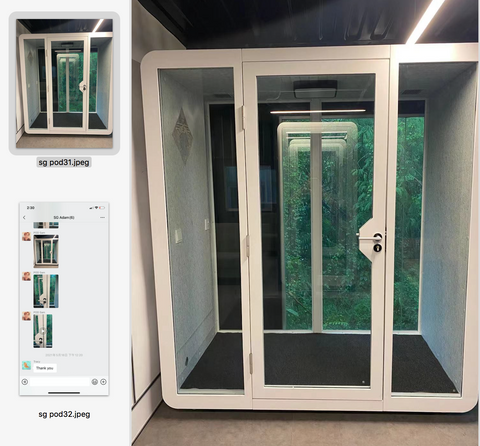 We hope that customers who have orders now, including those who have made a deal before, according to the suggestions of some new customers, we will ask customers for some videos of using our products, including some comments and praise on our products, and then as reviews, I will update them to our blog.

Welcome to follow up TFT Office Trend Blog and push us to share more your loved pods:)



Thank you.