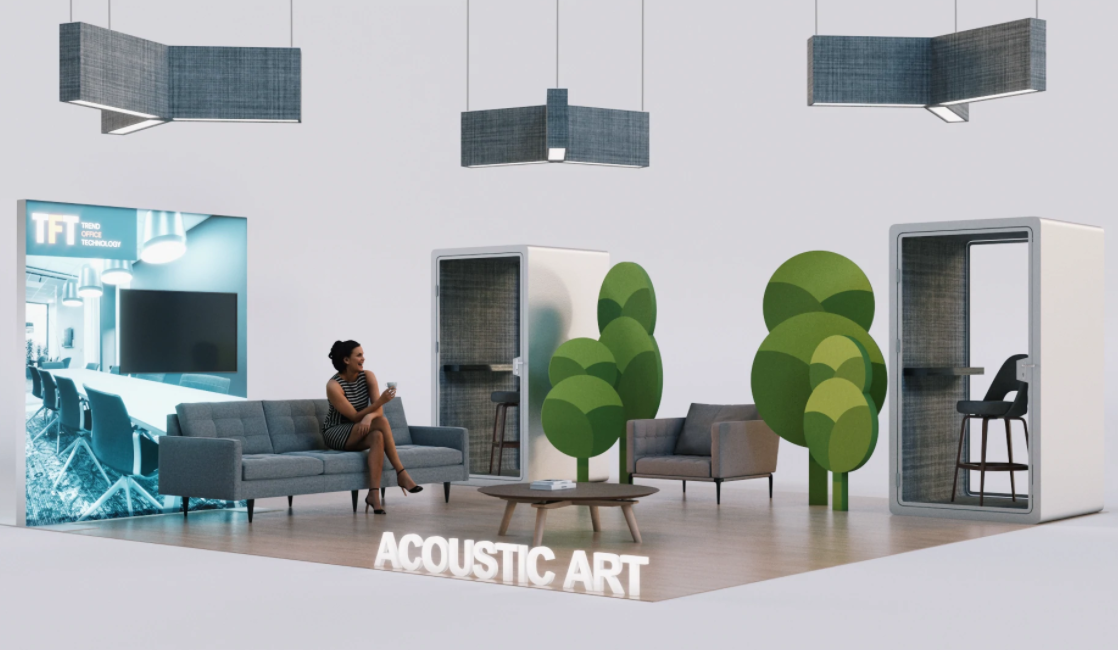 TFT- Bringing You the Best Acoustic Solutions
| henry han
TFT Acoustics® is a leading manufacturer of sound diffusing walls, soundproof office partitions, soundproof phone booths, and ceiling products…acoustical systems products.
The acoustic specialists at TFT Acoustics® have been bringing creative acoustic solutions to new and existing environments for 12 years. We offer an unparalleled range of acoustical products that can be custom-finished to meet any designer's dream.
In Particular, acoustical panels and fabric systems are in high demand in office spaces, sound studios, auditoriums, hotels, and more. They provide sound control that will last for years, making the spaces truly functional.
We developed more than 10 types of prefabrication decorative acoustic panels or walls and screens to become easy to learn and quick to install.
Sound Absorption Board
Sound-absorbing board, originally called polyester fiberboard, in our daily life, is very widely used. It can be used in the office field, home decoration, industrial decoration, soft decoration, carving, spray printing, etc. Its characteristics include sound absorption and noise reduction, anti-collision, anti-mildew, flame retardant, thermal insulation, high permeability, environmental protection, and non-toxic.
Mylar Fiberboard
The raw material for Mylar fiberboard is PET, and mineral water bottles raw materials, clothing fabrics are also added; so mylar fiberboard is certainly environmentally friendly, non-toxic, and harmless. Just do the bottle to be blown into pieces, woven fabric to be pulled into filamentary, to do sound-absorbing panels to be pulled into short filamentary, panels are also divided into ordinary and flame retardant two.
Grillroom Flame Retardant Board
Grillroom flame retardant board original silk production, the market low price are flame retardant soaked or sprayed. The longest flame retardant is only half a year, and flame retardants contain toxic substances, rainy days will also back seepage to the surface layer caused by irreparable stains. The original flame retardant wire flame retardant time limit of up to 5-10 years, environmental protection, non-toxic, decorative plasticity.
Areas Where These Products Are Used
Keeping in TFT systems (acoustics) with the latest fashion trends, we are engaged in providing a trendy array of Acoustical products. TFT has been committed to the development, production, and sales of architectural acoustic materials.
In the traditional building decoration industry, the products are widely used in;
Kindergarten
Home Office
Personal Recording Studio
Live studio
Cinemas,
Auditoriums
Conference rooms
Gymnasiums
Audio-visual rooms,
Classrooms
Medical rooms
Government agencies
Office
Living Spaces
Family / Kitchen Organization
Podcast / Recording Studio
Headboard
Kids / Classroom
and other places.
Relying on our professional team and advanced product technology, we provide one-stop service of acoustic design, decoration design, construction process design, and sound-absorbing acoustic products.
In the field of office furniture, TFT is a breakthrough in the use of traditional panels and has reached cooperation with domestic and overseas office furniture company brands.
At the same time, TFT has become a strategic partner of a large domestic architectural design company
From bids to technical support, the TFT team will be there. Training is done at our facility by professionals with years of experience. Please contact us to get started as a wholesale.